Black-Severn River
Hydroelectric power has been available on the Severn River Watershed since 1914.
Hydroelectric power has been available on the Severn River Watershed since 1914.
Watershed Description
The Black-Severn River Watershed includes all of Lake Simcoe in addition to the Black and Severn Rivers.
The Black River headwaters are in the Township of Algonquin Highlands. The Severn River subwatershed forms the southern border of The District Municipality of Muskoka.
Within the Black-Severn River watershed there are the municipalities of Simcoe, Muskoka, and Haliburton, the city of Orillia and the City of Kawartha Lakes.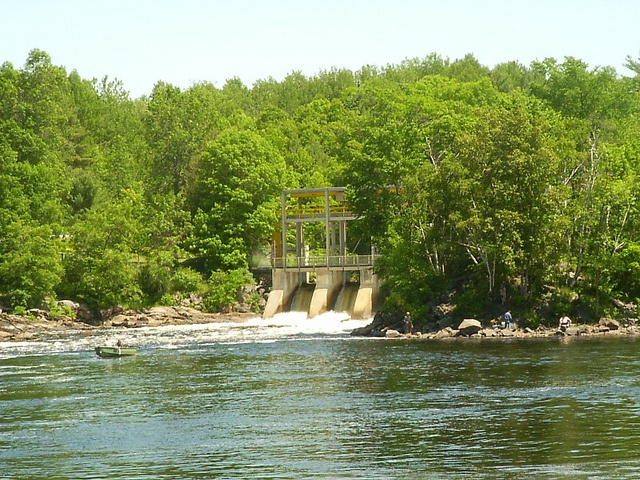 Climate & Environment
• The run-of-river hydroelectric station of Wasdell Falls has a total capacity of 1,65MW
Wasdell Falls Generating Station
Watershed Location: Washago, Ontario, on the Severn River
.
Structural Characteristics: This hydroelectric station uses VLH turbines to generate electricity.
In Service Date: Current Plant 2018
Capacity: 1,65MW
History: Wasdell Falls on the Severn River north of Lake Couchiching, was the site of the first hydro-electric power plant built by the Ontario Hydro Electric Power Commission. Opened on October 6, 1914, after several municipalities on the eastern shore of Lake Simcoe had requested a supply of electric power. The initial small plant had two 400kw generators in operation.
The natural formation of solid granite provided an excellent foundation for the development. The Wasdell plant operated as a separate unit serving the northern portion of Ontario County and the western portion of Victoria until 1924, when it became part of the Georgian Bay System. Displaced by much larger developments, it ceased operation in 1955, but provides visual evidence of the beginnings of one of the world's leading public power systems.
The plant was shut down in 1955 and demolished in 1973. A small, modular 135kw "Mini-Hydel" system was installed in 1980 by Ontario Hydro. The last remnants of this system were removed around 2000. The latest major redevelopment at Wasdell Falls was undertaken by Wasdell Falls Limited Partnership and achieved commercial operation on December 2, 2015.